Sanitaryware round as a circle + a flat element
Round WC seats – Other examples and variations
In this post we will talk more about round toilets. Some round toilets ( Arkè, El1, Wind, You&Me, Starck1) we have already discussed them in the post: 'Round vessels and the almost made-to-measure replacement of round WCseat !". We will now explore three other series of sanitary ware that have characterised the category of round shapes. They are all series that have enjoyed great success with the public, the first two: Flow round by Simas and Zelig by Dolomite are now out of production. Globo's Bowl 50 series still appears in the ceramic company's catalogue.
---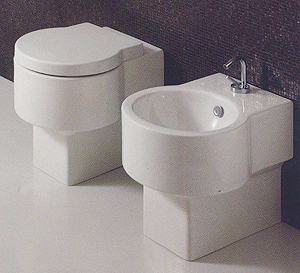 Flow Round series Ceramica Simas
The Flow poject by Simas was incredibly various and articulated. It included square sanitary ware ( Square Flow ) and a range of washbasins, some round, others square with asymmetrical tops of different sizes. I cite from the company catalogue: "More than a collection, an architectural project for the bathroom. Minimal but dynamic in its design lines. Functional in every room and in the different possible combinations…". The round and square sanitaryware were presented in free-standing or wall-hung versions. Their toilet seats (the round one has a width of 40.5/41 cm) can be found in the shop at the following link [ clik HERE ]
---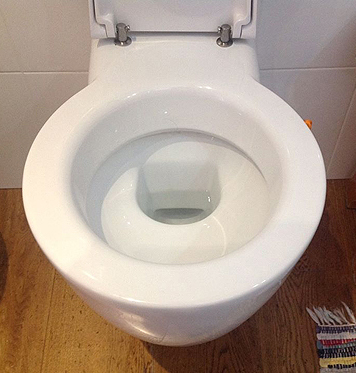 Of the round sanitaryware, it is the smallest in width, only 36 cm (the bathtub is 35 cm), but Dolomite's designers have given it the right formal proportions. It was presented in wall-mounted versions, on trestles and also in a monobloc version (with a ceramic cistern). It was presented in the late '90s and early 2000s. In the Dolomite catalogue we quote: "Clean, rounded curves, compact dimensions and modern design characterise the new complete line of Dolomite sanitaryware: Zelig". We had a dedicated toilet seat cover made to replace the old worn out plastic seat, practically perfect, you can find it at the following link [ clik HERE ]
---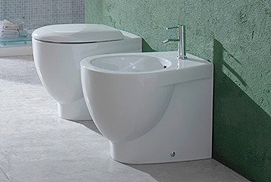 Bowl 50 Ceramica Globo Series
It is somewhat reminiscent of the Zelig Dolomite, but is wider (its toilet seat is 38 cm wide) and shorter (total length of the toilet 50 cm). Also in the Globo catalogue, the Bowl series is available both suspended and free-standing. Here are some passages from the company's catalogue that we think are significant: "A collection inspired by the use of soft, rounded shapes…. In particular, the design of the suspended toilet seat represents a minimalist reinterpretation of the classic egg shape. ….". Its original toilet seat is available in Sintesibagno sales point at the following link [ clik HERE ]

We have seen other round sanitary ware series and their toilet seat. You may not have found the right seat for your toilet and you may not know which one to buy. To avoid mistakes, consult us as shown in our video. We will find the perfect toilet seat for you.