We started to see some colours of sanitary ware and their covers, at least the main ones: champagne, vison, kashmir, whisky and dain, in the post: Sanitary ware colours. Why is it difficult to find the right rcolour toilet seat?. We have seen how difficult it is to identify and understand colours digitally, so, we suggest you to read also that post for helping you not to make a wrong choice. Putting them side by side will somehow try to make the search easier. In order to improve the search, we will see the other colours, and to do so we will use the toilet seats of Conca (Ideal Standard) that we have already seen in other posts: where we talked about the sanitary ware that require toilet seats with inclined hinges "toilet seats for sanitary ware with inclined plane/oblique at 45°", where we talked about the difference between European white/normal and Ideal Standard white "White EU/ Ideal Standard White, what is the difference in toilet seats ?", where we talked about sanitary ware and their rectangular toilet seats: "Rectangular/Squared sanitary wares and toilet seats replacement". We will also bring up the toilet seats of the Square series by Pozzi Ginori, to which we will soon dedicate larger post on the historical series of Pozzi Ginori: Piemonte, Stile, Italo, Italica, Italo Duo, Square….to name some. Well, let's get started!
---
Ideal Standard Conca toilet seat light blue and blue
Before starting, a note: we have used the Conca toilet seat as an example. Also in other Ideal Standard series you will find these colours and in many other companies: Pozzi Ginori, Dolomite, Cesame, Scala…. Here we see the three shades of blue. We start from whisper blue (the colour of sugared almonds) to arrive at the Ideal Stanadard blueberry also called navy blue by other ceramic manufacturers. It is a very dark blue. If we were thinking of a colour in the real world, we would think of the classic blue of men's jackets. Instead, the deep blue is brighter and brighter, some call it navy blue. However, try watching the videos too, the moving toilet seat cover makes the colour more tangible. (Clik here for Sintesibagno channel).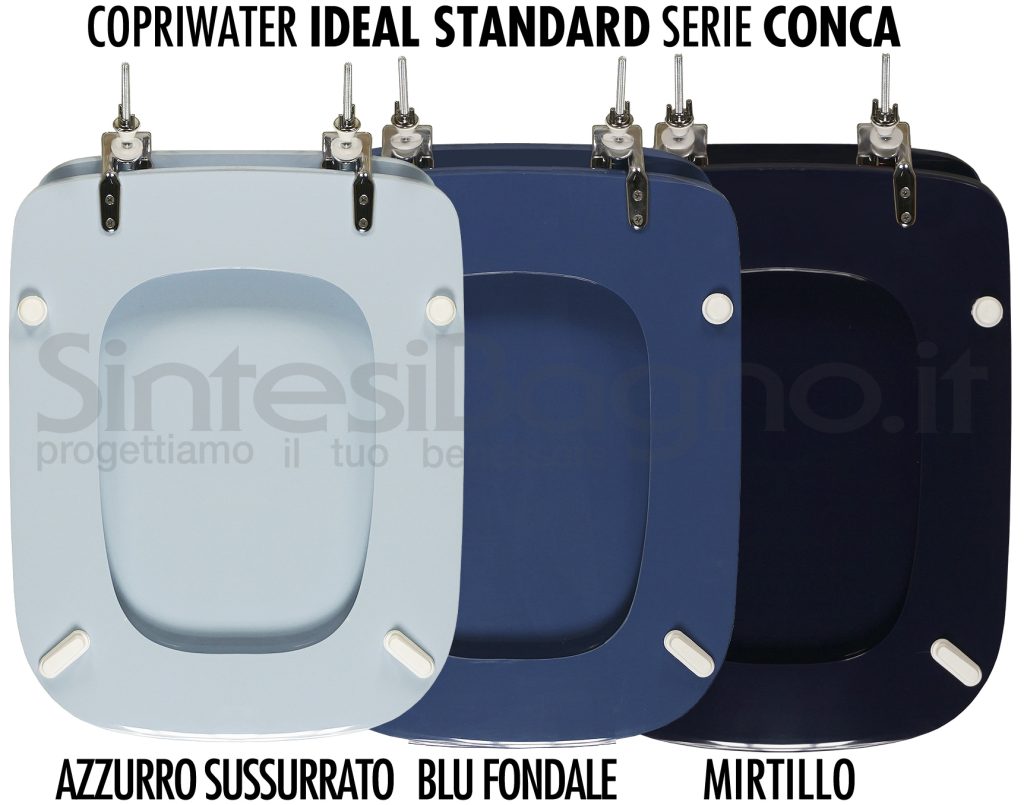 ---
Ideal Standard Conca toilet seat green
Here we have the three greens proposed by Ideal Standard. The lightest, called whisper green, the brightest and best selling fern green and the darkest which is the typical green also called military: cactus. Usually we notice that customers, on this colour, do not make mistakes, because the differences between one and the other are actually very marked. At the following link you will find all Conca toilet seats in green [ clik HERE ]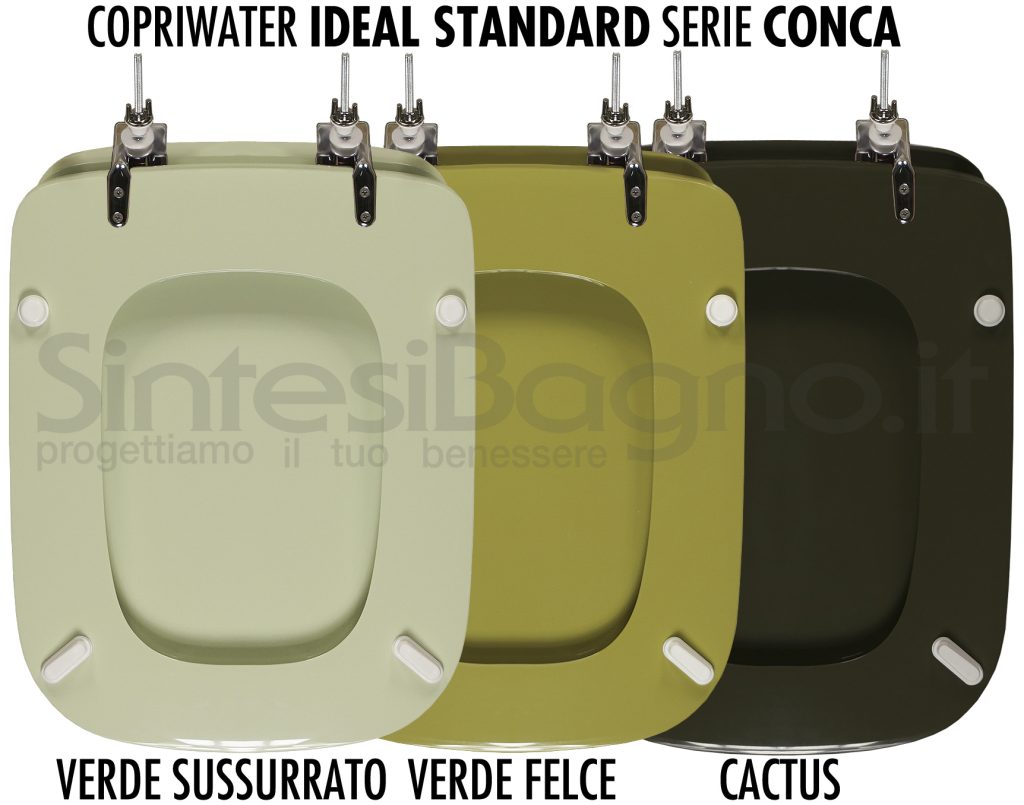 ---
Ideal Standard Conca toilet seat brown
They are the most intense and pronounced browns. Kashmir, as we said in the previous post, which is reproduced below, if we look for it in the real world is very similar to "coffee ice cream", while the beaver brown (incredible, but true) is similar to coffee powder. Last but not least, walnut is the typical brown we all know. Brilliant and bright. Below is the passage from the previous post where we talked about kashmir, vison and the the famous champagne. So you can get an overview all the browns.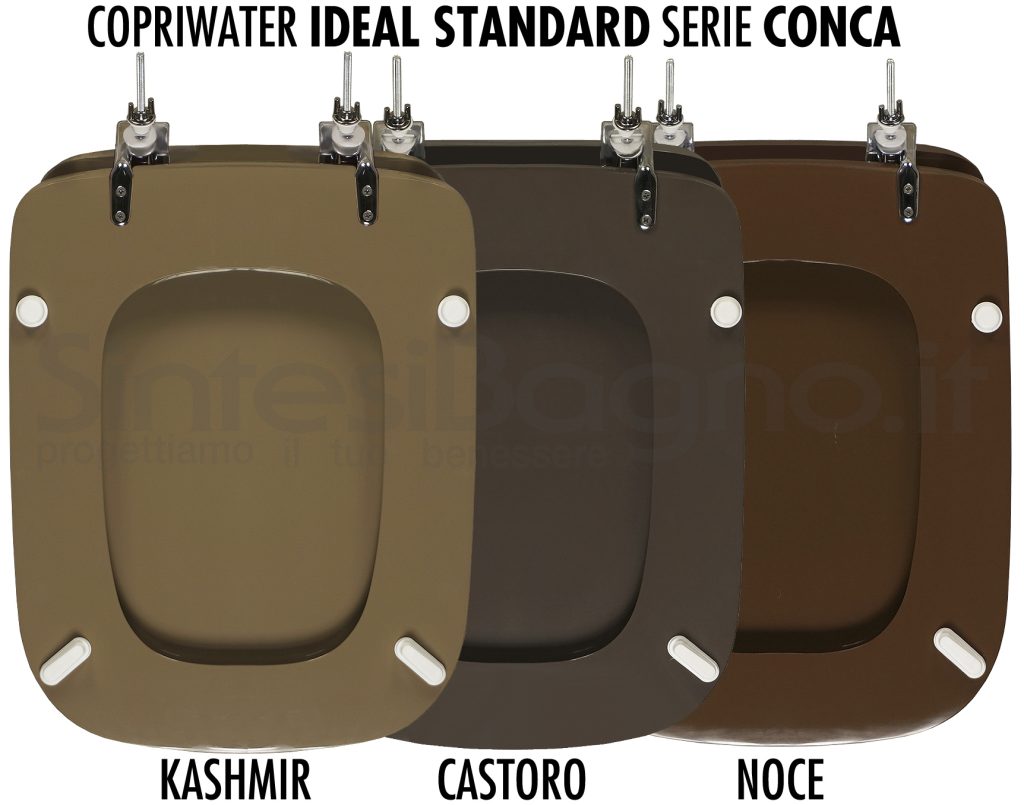 ---
Toilet seat covers! The colours champagne, vison and kashmir
These three colours placed side by side allow you to perceive the differences between them. As you can see, champagne is a typical beige colour (if you want a reference to the physical world, think cream ice cream). Often confused for champagne is vison, but, as you can see from the comparative image, it is no longer a beige, but we are already in the light brown category (always staying with ice cream flavours as an aid from the physical world think of hazelnut ice cream). Many customers, looking at the sanitary ware and searching for the colour, describe it as a light brown with very slight nuances of even pink, depending on the bathroom light. Lastly, the colour kashmir, here we are already in the shade of brown, even if it is not one of the brightest that Ideal Standard has produced (walnut, beaver… which we will see in another post article), staying with the help of ice cream flavours I would see it as coffeeclik here for the full post.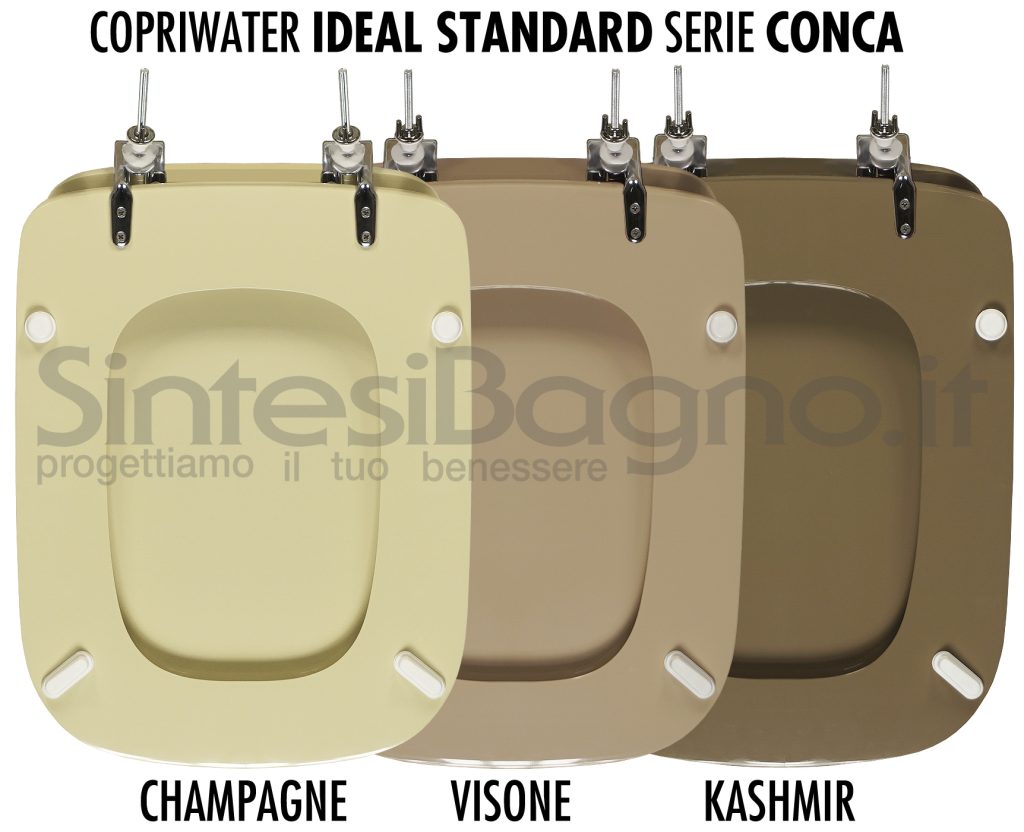 ---
Ideal Standard Conca toilet seat in white, Ideal Standard white, whisper grey
We talked about the famous Ideal Standard white in the post (here). Here is a short step, the rest you can read in the link (here): "When the time comes to replace the toilet seat, after a few years, lookong for it in some inexperienced dealer or in some do-it-yourself shop, you have bought the toilet seat of the serie whose name you know, you happily go home and place it … and….. "but, how comes that the toilet seat is white like milk and the toilet is grey?". That's right, as long as there is no chromatic contrast between the two whites, if we were asked what colour our seat was, we would say: white! Now we know that it is Ideal Standard white! We quote this because you have to pay attention to another colour: If your Conca vase is really grey and not just slightly shaded then it will most likely be the whisper grey.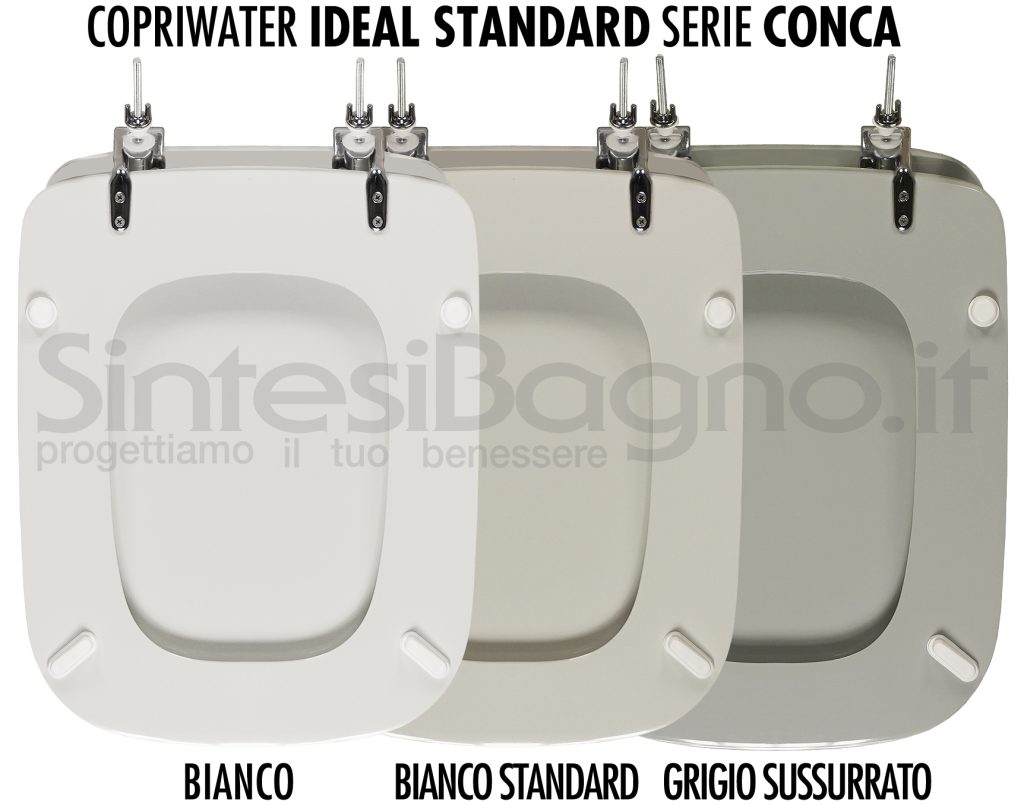 ---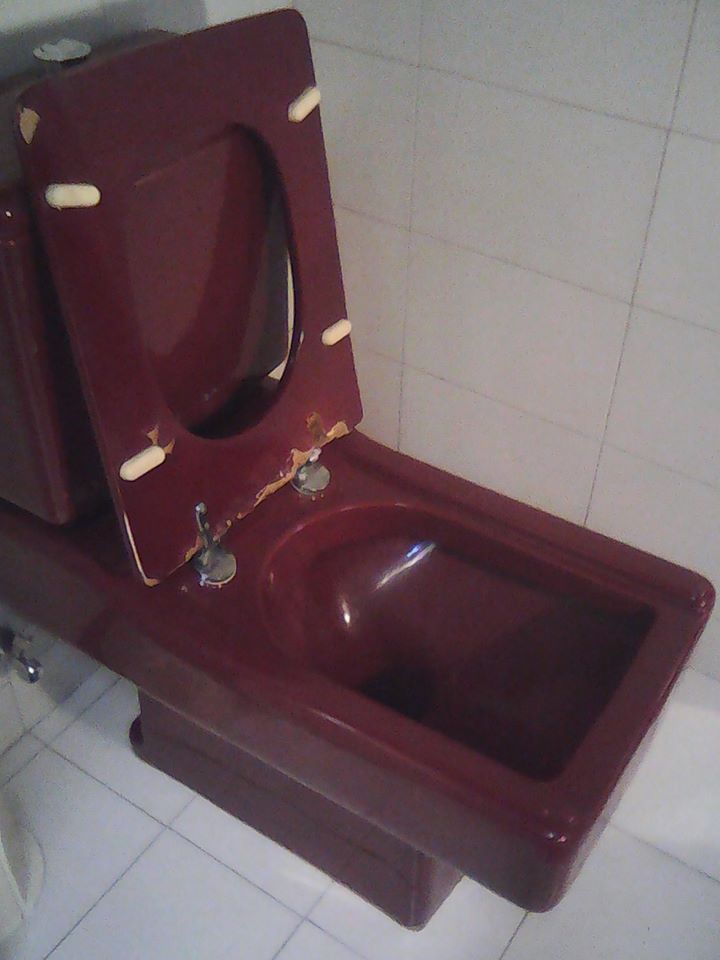 Pomegranate colour toilet seat
We close the Ideal Standard colours with an exclusive. We use to show you a Rialto vase produced by Ideal Standard in the 70s and 80s. This colour was called: Pomegranate. Many call it red, many call it burgundy, but in any case it is very recognisable. If you have an Ideal Standard sanitary ware in your bathroom that tends towards red in some way, it is definitely him. You can find all the Conca toilet seats in the official Ideal Standard colours we have just seen in the Sintesibagno store at the following link [ clik HERE ], se per caso cercate davvero il copriwater Rialto in questa colorazione lo trovate al link [ clik HERE ]
---
Pozzi Ginori Square grey variants
And here we come to colours that Ideal Standard has never done. In this case we are talking about Pozzi-Ginori greys. We use for this comparison the Square toilet seat. The whispering grey, the classic grey and the less known, but still very popular: mondrian grey. Here the tone of the grey changes, it's as if a touch of black from the famous lines of the painter has been dissolved in the grey. In the picture the difference in greys is very noticeable. Square toilet seats, in all colours, are available in the SintesiBagno store at the following link [ clik HERE ]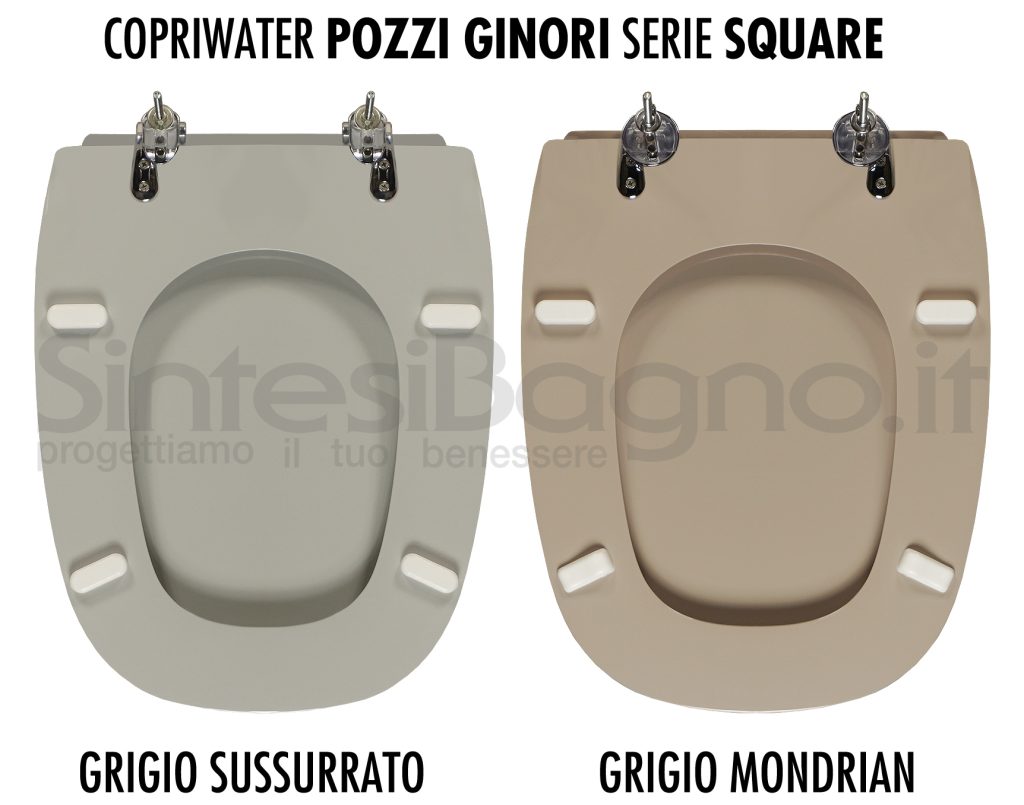 ---
Square toilet seat in pink
Another exclusive Pozzi Ginori colour is oriental pink. Unlike the whisper pink, which is the typical candy pink and has also been produced by other ceramic companies, a small percentage of red has been added to the pink base. The result is a colour that some people call "flesh-coloured", which sounds a bit bad, but is actually very similar to the complexion of our skin. However, if you have a Pozzi Ginori sanitary ware in your home that looks like a pink, not too bright, that tends slightly towards reddish, it is almost certainly this colour. Square toilet seats in all colours are available in the SintesiBagno store at the following link [ clik HERE ]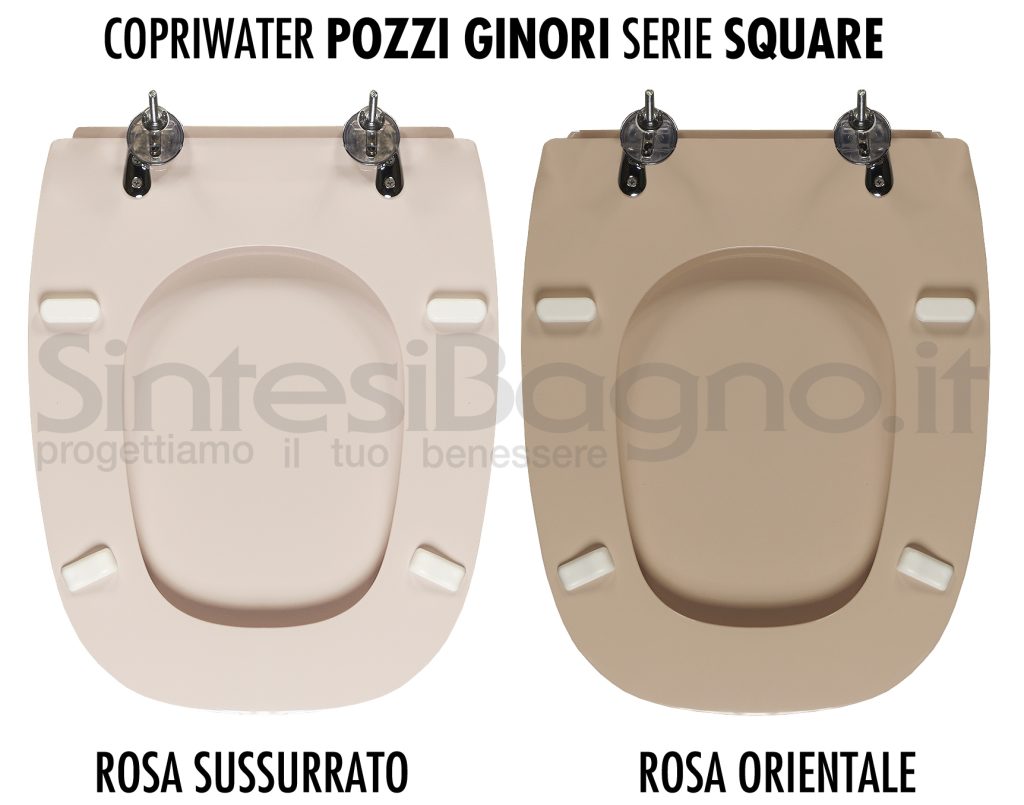 ---
We have seen other colours of sanitary ware and toilet seats. Perhaps you now know what colour your toilet seat is, but you don't know the series and are therefore afraid of making a wrong purchase? Just follow the Sintesibagno guide to finding the right WCseat and your purchase will be certified!