At the turn of the seventies and eighties there was a new trend in the bathroom furnishing world which led to the shapes of sanitary fixtures increasing in volume, the standard size of WCs went from 50/52 cm to much larger sizes, reaching 55, 56, 57 cm and in some cases even 60 cm and more. As a result of this growth, toilet seats have also increased in size, and to fit these fixtures, they need to be sized precisely and correctly. If you look for a replacement toilet seat in shopping centres and DIY stores, you will soon realise that the normal and universal toilet seats currently on the market are unbelievably small and out of proportion for toilet bowls of this size. Toilet seats measuring 50, 51, 52 cm and perhaps 53 cm in length can hardly be considered a standard size. In this article we will look at the best-selling large sanitary ware of those years.
---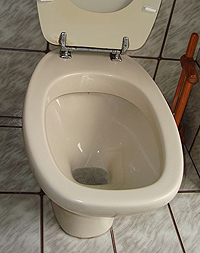 Italica "large size" toilet seat by Pozzi Ginori
The starting point for talking about these large sanitary ware is certainly the series produced by Richard Ginori called Italica/Italo. You can still find it in many bathrooms as well as white in all the colours of the time: champagne (a best seller), pink, light blue, blue, brown, pink, green and grey. Of course, it clashes a little with today's minimalist style, but in those days, if you wanted to create an "important" and luxurious bathroom, you had to go through Italica. Its almost rectangular shape and dimensions (54/55 cm) require a toilet seat dedicated to the toilet bowl to perfection in the size 50×36 with centre distance 15/15.5. You can find the toilet seat for this wc in all the original colours in the Sintesibagno store at the following link [ open LINK ]
---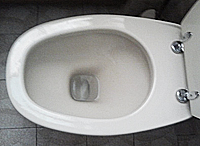 Gran sasso Hatria series (formerly Spea) and Nordica Vavid series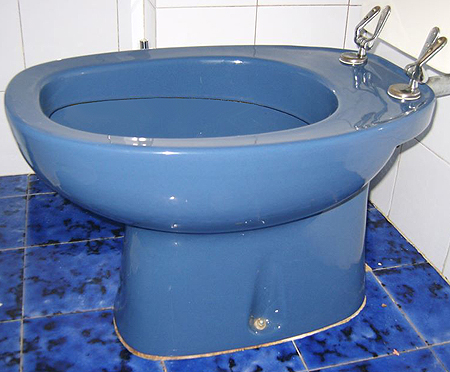 Let's start with the vase produced by Spea ceramics (today Hatria) called Gran Sasso. The same name and the same "grandeur" as the highest mountain massif in the Apennines. A bowl as big as Italica and also very similar. It differs in the upper part where in the central part it tends to widen slightly. You can find its toilet seats in the size 50 / 51 x 36 cm and in the official colours white, champagne, mink and green in the store at the following link [ open LINK ]
Close relative of Gran Sasso and Italica we find this sanitaryware produced by Vavid called Nordica. Important dimensions for the toilet seat suitable for this toilet bowl: 49 / 50 cm. You can find it in the store at the following link [ open LINK ] in all the colours produced in those years.
---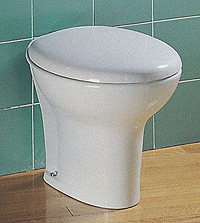 Ceramic series Amica ceramic Globo
At the turn of the 80's Ceramica Globo proposed these very large sanitary ware, the series was called Amica. Unlike the three previous ones we have just seen, which can be considered rectangular shapes, this series shifts to softer and more rounded shapes. The top is a classic oval shape (typical where universal toilet seats can fit), only the measurements needed to fit a perfect toilet seat have to be 49.5/50 cm deep, but it is above all the width that is incredibly large, a good 39 cm!On top of this toilet seat you can only use a toilet seat made (dedicated) especially for it. you can find it at the following link [ open LINK ]
---
Serie LAGO ceramics Dolomite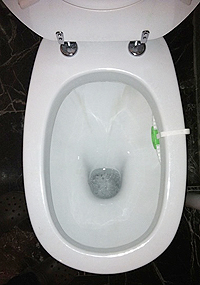 Ceramica Dolomite presented this sanitary ware, which by many standards can be considered great, after two enormous series such as Cristallo and QT70 (which we will analyse in the next article) to lighten it and make it more current for the times. It was a great success and can still be found in many bathrooms today. It was an oval shape elongated at the sides. Its toilet seat fits right into the large size category (50 x 36.5). It was produced in different colours: champagne, bottom blue, red/bordeaux pomegranate, fern green. All the toilet seats are available in the Sintesibagno store at the following link [ open LINK ]

We have seen some of the sanitary ware called large size or large size, however it is still difficult to see the difference between one series and another. If you have a non-standard sized toilet seat in your bathroom and you don't know the model, to help you find the correct large sized toilet seat we suggest you use our guide to take the measurements correctly and ask us for the correct toilet seat, without wasting time, money and above all without stress! Watch our tutorial on how to do it and wait until you receive the email or message with the correct model: