Let's start with a quote from Flaminia's official catalogue: "In 1996 the company became a joint-stock company and a few months later the "revolution" began with Roberto Palomba taking over as artistic director and starting to design new products together with Ludovica Serafini. The decision was made to focus on design, also making use of external collaborations, such as the one that in 1997 saw Giulio Cappellini create the product that became the icon of change: the Acquagrande washbasin. Work in progress ( The expression Work In Progress identified the new "design line" which was soon enriched with new articles"). (Source: Catalogue Flaminia). Since that date, which we consider to be year 2.0 for the Civita Castellana-based company, it has presented one incredibly beautiful and resoundingly successful project after another. It started with Link sanitaryware, then came Spin and then Terra…..
---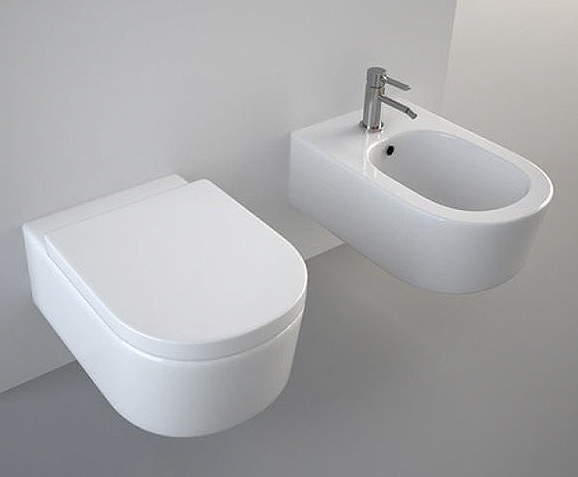 LINK series by Ceramica Flaminia
They are the series of sanitary ware that has brought Flaminia and the world of bathroom furniture into modern design and style. We have also talked about them in the post on suspended sanitaryware: "Whall-hang sanitary wares and their WC saets (part 1)" which we quote in part: "In the late '90s and early 2000, wall-hung sanitary ware began to be considered a 'normal' choice. It was the right time for a formal acceleration. The market was used to the same shapes, rather rough shapes. Until then, the mere fact that a sanitary ware was suspended was enough to qualify it as modern. Flaminia understood the need for new shapes and styles and presented Link. It was a masterpiece! They are still among the most beautiful wall-hung sanitary fixtures in the bathroom world. The incredibly low body height of only 20 cm (excluding the siphon) really gives the idea of a body suspended over the void. Minimal, chic, very modern even now, more than twenty years after their presentation. The toilet seats for these sanitary fixtures are available in all its variants (original wrap-around, original wrap-around soft-close, in polyester-coated wood and the various dedicated versions) at the following link [ clik HERE ]".
---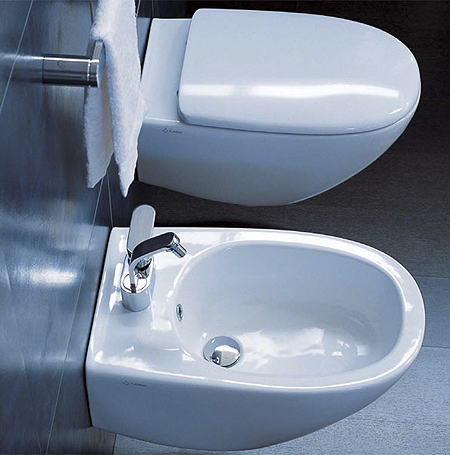 SPIN series by Ceramica Flaminia
If with Link the shapes come directly from geometry, with Spin the designers are inspired by the natural, enveloping forms of nature. The slight inclination of the base adds to the suspended effect. In order not to lose the practically perfect line of these sanitaryware, we recommend the original toilet seat which you can find at the following link [ clik HERE ]
---
Sanitary wares TERRA by Ceramica Flaminia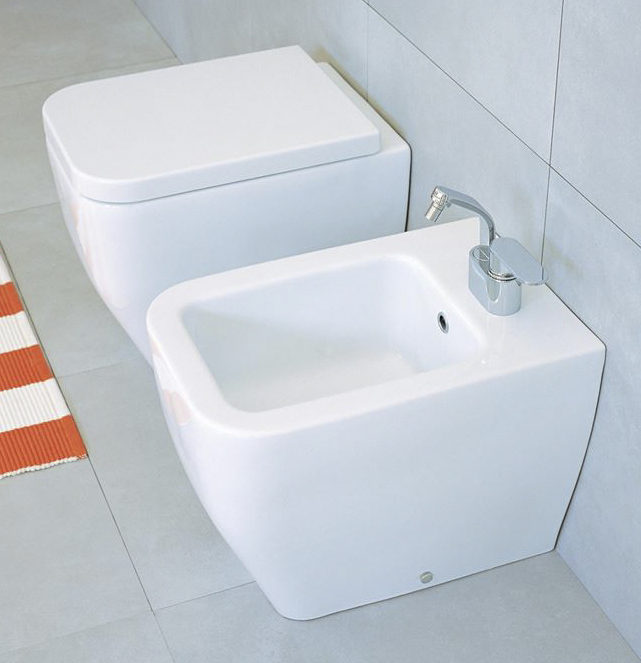 Flaminia's rectangular sanitary ware also makes its mark with design. We have seen in the post "Sanitary wares rectangular shapes. Why do all toilet seats for this WC look the same?" the evolution of sanitary ware with rectangular and square shapes. We quote a passage: "We are at the beginning of the 2000s, it is a time of great ferment in the bathroom furniture sector. Many companies wanted to oust Ideal Standard and Dolomite from their throne of market supremacy. The ceramics companies of the Civita Castellana district understood that the public was looking for new forms and design and great designers entered the bathroom. One of the companies that best interpret
s the trend of the moment is certainly Ceramica Flaminia that presents one after the other ceramic series that all become best-sellers (see Link and Spin) and among them we find Terra. With this series the company strikes again and achieves another sales success and opens a new way to ceramic shapes. The upper shape of the vase, which is precisely rectangular with slightly rounded corners, and its change of depth towards the floor, make it unique at that time. It is still beautiful today almost twenty years after its presentation. Here are the links to the Flaminia section in our shop where you can easily find spare parts for the Terra model! [ clik HERE ]"
---
We have just seen three superstars of the market produced by Flaminia ceramics. You may not have recognised your sanitary ware and therefore do not know which toilet seat to buy. Let us do the research, to avoid mistakes just send us an email to info@sintesibagno.it or a WhatsApp message to 3341288978 with two pictures of your toilet seat and a few measures and we will be able to help you choose. Here the video on how to proceed in the search of the toilet seat…