Hatria is a company that has shown the market that it is still possible to innovate. It has shown that new forms of sanitaryware can still be created and produced. In the space of a decade it has established itself as one of the market leaders thanks to its revolutionary shapes and clearly the very high quality of its ceramics. We quote a passage from their website [ clik HERE ]. Hatria specialises in the production of ceramic sanitaryware: washbasins of all types and shapes, floor-standing or wall-hung WCs and bidets and shower trays, as well as furniture, shelves, accessories and towel rails. Innovative design and strictly Made in Italy production characterise Hatria's offer. Everything stems from a solid ceramic tradition, from a " know-how" that over time has been combined with increasingly sophisticated production technologies: ceramic is the protagonist of Hatria collections, generating infinite solutions for the world of bathrooms with exclusive design. So let's see these "serious" protagonists….
---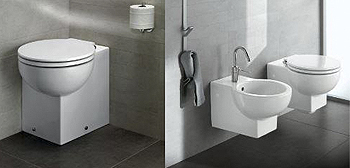 YOU&ME series by Hatria
We have talked about these fantastic little You&Me sanitaryware in several posts "Which small toilet seat has sold the most?", where we highlighted the fact that among small/compact sanitary ware it is one of the best-selling series. In the post "What is the weelbase in toilet seat? (part 1)", we have seen its particular wheelbase 4.5/5 cm. In the post "Sanitary ware as round as a circle. Here you need tailor-made toilet seat!", we have studied the round shape of the upper circle combined with a square lower base. It is certainly one of the series that has allowed Hatria to make a name for itself as a design queen. And here is the link to find its two toilet seats [ clik HERE ]
---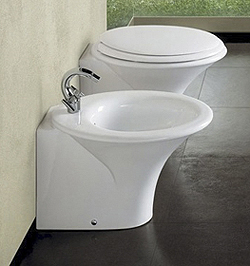 SCULTURE series by Hatria
On the opposite side of You&Me from a formal point of view we find Sculture. If the sanitary ware we have just seen falls into the small category, we find this series in the large one! We talked about it in the post "BIG Sanitary ware, WCs and bidets in large sizes, modern lines and their toilet seats (part 1)". A sanitary ware series that is innovative in style, truly designer and formally very large. We are talking about a sanitary ware of 60 cm in size. The two versions of the Sculture toilet seat (50/51 cm long), the one in white coated wood and the one in thermosetting with soft-close hinges (slow motion) can be found in the store at the following link [ clik HERE ]
---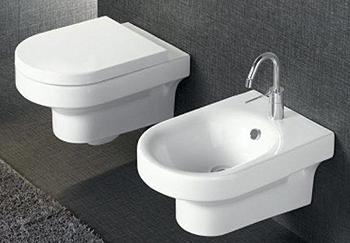 DAYTIME series by Hatria
We can describe it like this: the purity of form, simple is beautiful. A light, minimalist shape in both the wall-hung and floor-standing versions: Day Time immediately won the taste of the millennials market. All toilet seat versions are available, including the new Slim version with slow hinges at the following link [ clik HERE ]
---
Serie DOLCEVITA Hatria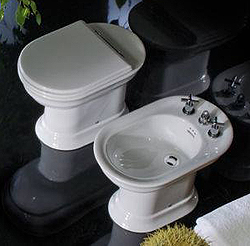 We have seen that every sanitaryware company has produced or still has in its catalogue a retro/classical style line. We have seen that for Ideal Standard it is Calla, for Cesame is Bella Epoque, for Catalano is Canova, we have also dedicated an article to these antiqued series "Retro- Classic-English Style Sanitary ware and their toilet seats (part 1)" where we have other interpretations of the style:
Antalia, Ellade, Retrò, Arcade, Magica. Hatria could not fail to have a sanitaryware of this category and has designed a very refined series. Oval in the upper part and oval in the foot, embellished by the band in the lower part of the sanitaryware and by the steps in the upper part. Another centrepiece! The Dolcevita toilet seat cover can be found in the store at the following link [ clik HERE ]

Della produzione meno recente di Hatria avevamo già visto un paio di serie molto fortunate dal punto di vista delle vendite: Selecta, di cui ne abbiamo parlato nel post "Sanitary ware with inclined top and their toilet seats with shaped bumpers (part 1)" and we talked about Marilyn in the post "Why are sloping bumpers needed on some toilet seats? (part 2)".
---
We have seen some Hatria sanitaryware and their toilet seat covers, it could be that you have not found your sanitaryware and therefore do not know which toilet seat cover to order. No problem, just send us an email to info@sintesibagno.it or a WhatsApp message to 3341288978 with two pictures of your sanitaryware and a few measurements and we will be able to help you in your choice. Here is the video on how to proceed with your toilet seat search: