In previous posts we have already looked at small sanitary ware and their toilet covers. In this: "The ten small sanitary appliances that made history in the category" we have seen some best-sellers such as: 500 Pozzi, You&me Hatria, Bonsai and Space Stone 45 by Globo and Zerolight 48 by Catalano.
Europa DUO Series (monobloc WC) Pozzi Ginori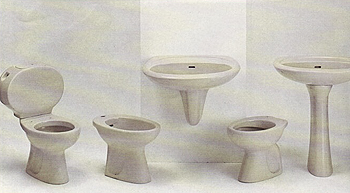 A sanitary ware produced by Pozzi Ginori in the '70s was called Europa. It was the company's golden age, which we saw in the post on the Italica, Square and Italo duo rectangular toilet seats read HERE.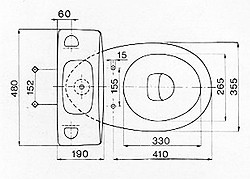 Unlike the series just mentioned, Europa had an oval shape and the particularity that the dimensions of the seat, depending on whether the toilet had a ceramic cistern or not, changed radically. In fact, in the classic version the toilet seat was 36 cm wide and had a length of 44 cm, thus the canonical dimensions of a floor-standing toilet, at least for that period.

In the version with the DUO ceramic cistern (known as the monobloc), the precise measurements of which you can see from the technical brochure of the time, were considerably reduced, bringing the toilet seat into the category: small. The length from the holes with its hinges is in fact 40 cm for a width of 35.5 cm.

It was mainly produced in the colour CHAMPAGNE, but we also find it WHITE and in the colour ROSE. All Europa Duo toilet seat covers are available in the Sintesibagno store.
ZERO 45 Series Catalano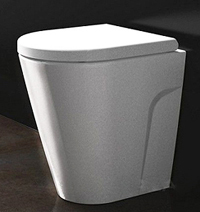 Let us now look at the Zero 45 toilet seat (1VP4500)by Catalano, the toilet seat is the smallest in the ZERO range of sanitary ware.

In our opinion, it represents the minimum dimensional limit for comfortable use, as it is adequate for both the user's seat and the operation of the drain trap. We do not believe it is possible to reduce the size further, as its 45 centimetres represent a small area. Initially, the toilet was only available in a floor-standing version, but it is now also available in a wall-hung version. We have already discussed Catalano's entire ZERO range of sanitary ware in a previous post entitled "The Catalano Zero toilet seat cover. How many models are there in this series? Zero 45,50,54,55,62, Light, +", where you can also see the 'normal' models of the ceramic series that are very popular among architects.

For this Sanitaryware there has always been only the original toilet seat cover available, since a few days the dedicated version with wrap-around cover and soft-close hinges is also available. You can find both at the following link to the Sintesibagno store [ Clik HERE ]
NUVOLA Series Azzurra Ceramica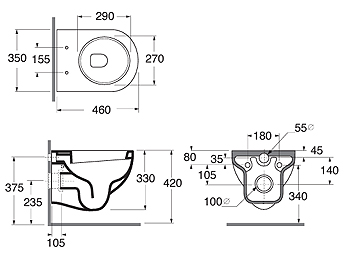 The company presented the series in both floor-standing and suspended versions. The two depths are 55 cm and a very compact 46 cm. You can see the technical drawing of the Azzurra Mini Nuvola WC in the image to the side. In both sizes, the toilet body is marked by a particular depth change inclined to the side.

For the larger version we have both the toilet seat cover with standard hinges available [ Clik HERE ] that the soft-close hinged toilet seat [ Clik HERE ]. For Mini version (size 39×35) only the version with standard hinges [ Clik HERE ]