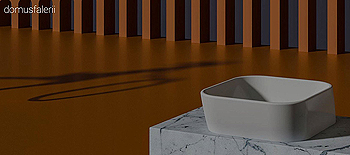 Who is Domus Faleri? It is a historical company in the ceramic district of Civita Castellana. Founded back in 1970. Here is their website to find out all about this ceramic company and its most recent ceramic production: DOMUSFALERII.IT. Today we will look at some of their most representative ceramic series that have spanned almost fifty years of bathroom design history.
---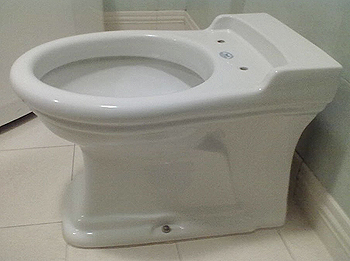 MAGICA series by Faleri
If you are looking for sanitary ware that has a retro/classic style you now know where to look. Magica represents the late Empire style at its best and demonstrates the company's craftsmanship. It has succeeded in challenging the big boys on the market by winning an important share of sales in the category. We have seen its competitors in the post: "Retro Classical English Style Sanitaryware and their covers (part 1)" and in this: "And then comes 'Montebianco' Classic/Antique sanitary ware and their toilet seats (part 2)" they are: ANTALIA by Dolomite, MONTEBIANCO by Pozzi Ginori, ALBANO by Vitruvit, LUTEZIA by Ceramica Senesi, PALLADIO by Sbordoni, LONDRA and ARCADE by Simas, RETRO' by Kerasan and ELLADE by Hidra. Initially we had the thermoset toilet seat cover in the catalogue, we removed it and inserted the dedicated white coated wood version like the original, much more classic and in style with the toilet. You can find it at the following link [ clik HERE ] to the Sintesibagno shop.
---
ASSOLUTO series by Faleri
We are still in the classic style. On the company website it is described as follows: 'A decidedly classic line that creates a collection that is beautiful to look at and comfortable to use, meticulous in its details but without excessive frills."Why comfortable? We talked about it in the post: "Which sanitary fixtures and their toilet seats are the widest? From what size is a toilet seat non-standard? (part 1)". Where we have seen that there are sanitary fittings, including Assoluto, that are wider than the dimensions considered standard and therefore more 'comfortable to sit on'. So your toilet seat cover also has a width of 39 cm. You can find it in the Sintesibagno store at the following link [ clik HERE ]
---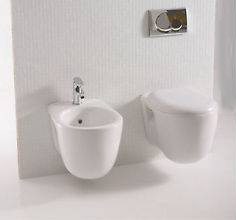 F-CONCEPT series by Faleri
They represent the Faleri company's small sanitary ware and WC coverings category. F-Concept is a complete system of floor-standing and wall-hung washbasins and sanitary ware that was created for the contract market, but given the popularity it achieved with the private public, it quickly spread to civilian homes. For us, as we saw in the post "Sintesibagno® selects from its toilet seat catalogue the ten SMALL SANITARIES that have made history in the category." deserves to enter the selection of the best 10 small WCs in the bathroom sector such as: 500 by Pozzi Ginori, YOU&ME by Hatria, COMPACT by Eos Ceramiche, BONSAI by Globo, ZEROLIGHT by Catalano and all the others in the selection. Returning to F-concept sanitaryware, its small toilet seat (less than 40 cm) can be found in the store at the following link [ clik HERE ]
---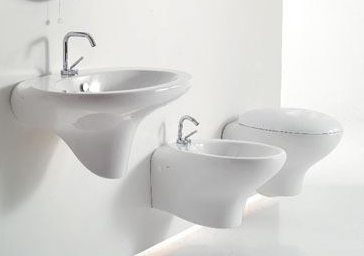 FISH series by Faleri
Let's start by looking at the company's modern series. We talked about FISH in the floor-standing and suspended versions in the post: "Bowls and bidets with an elongated oval shape. From the simple to the special shape. Finding the toilet seat" and described it as follows: "The company's designers may have been influenced by Pozzi's Join project when starting out on the design, but when the work is finished it is certainly clear that the new series is stylistically independent. The oval design has been deliberately emphasised by playing on the unevenness of the upper surface, accentuating the lowering of the part where the toilet bowl, in both the floor-standing and wall-hung versions, is positioned flush with the wall". In the Sintesibagno.shop store you will find toilet seats like the original (it would be a shame to spoil such a distinctive sanitary ware line by fitting an adaptable toilet seat) at the following link [ clik HERE ]
---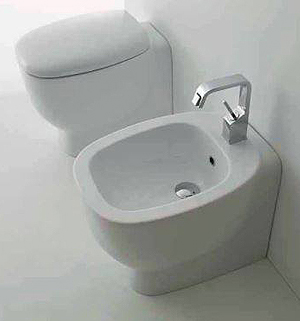 DUETTO QUADRO series by Faleri
The company's best-selling series in our opinion. A rectangular shape with soft angles, placed flush against the wall it has a very modern style. It recalls the style of the 500 series designed by Antonio Citterio but remains more streamlined and in terms of dimensions differs completely. The particularity of its toilet seat cover is that it has a very narrow wheelbase, typical of other sanitaryware series we have seen in the post: "What is the wheelbase in toilet seats? (part 1)".

Its toilet seat covers with both standard and slow motion hinges can be found in the following store links (STANDARD) – (SLOW_MOTION)
---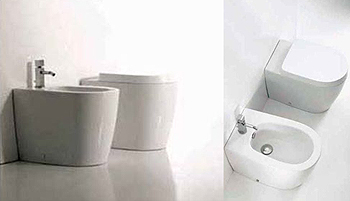 FOGLIA 51 series by Faleri
Another of Faleri's latest series: Foglia. Modern, flush-to-wall sanitary ware line like those seen in the post: "Floor-standing sanitary ware caressed (flush with the wall). Wrap-around and mordant shapes. Top-mounted toilet seats are required.(expa)" where we saw its direct competitors in the choice that customers ready to furnish their bathrooms will make: Sfera (sistema C) Ceramica Catalano, Open Space Concept Ceramica Globo, Fast Pozzi Ginori (Geberit) and LFT Spazio (Acqua Space) Simas. This sanitary fixture by Faleri is suitable in designer bathrooms and has the special feature of narrowing at the sides towards the wall, making its important figure lighter and lighter. Excellent design in our opinion and bravo to the company. Its thermoset toilet seat cover like the original can be found in the store at the following link [ clik HERE ]
---
ADRIA series by Faleri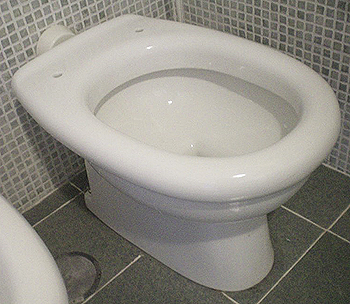 Let us take a small step back in time to close this post on the Falerii ceramic series and their toilet seats by looking at Adria. To appreciate these ceramic shapes, it is necessary to set them in the '80s where they dominated the market ARETUSA by Cesame. This ceramic series by FALERI is in our opinion, from a formal point of view, the only true heir to the market queen of that period. WC covers for this series are available in the store at the following link [ clik HERE ]
---
Today we have discovered the ceramic series of another company from the Civita Castellana ceramic district: Domus Area Falerii. Perhaps you have recognised your toilet bowl and are able to purchase the right and precise toilet seat cover without making a mistake. However, if you are still in doubt about which toilet seat cover to look for for your wc in the bathroom, we suggest you send us an e-mail to info@sintesibagno.it or a WhatsApp message to 3341288978 with two pictures of your sanitary fitting and a few measurements and we will be able to help you choose. Here is the video on how to go about finding a toilet seat cover: