If we are looking for a company that is not afraid to innovate and experiment from a formal point of view, we have found it in Althea ceramics. It is difficult to find such unusual sanitaryware shapes in other companies in the Civita Castellana district. Let's take a look at the company's most unusual series of sanitary ware.
---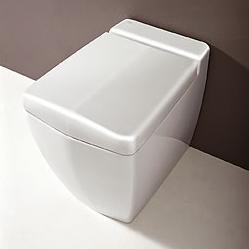 OCEANO series by Althea
Seen from above it is a pentagonal shape, at the back there is a raised surface that allows the toilet seat to remain in line and become one with the body of the sanitary ware that continues towards the floor. It was presented in the floor-standing version, in the suspended version and in the version with integrated cistern (ONE PIECE), a single piece, no longer a separate toilet bowl and cistern. The toilet cover is the same for all models and you can find it at the following link [ clik HERE ]
---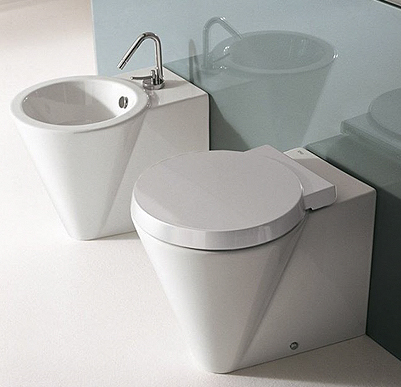 HERA series by Althea
We have seen sanitary ware with this round shape in the post "Sanitary ware round as a cirlce. Here you need customised toilet seats!". A ceramic cone (upper part 38.5/39 cm in diameter) resting on a square element. Pure geometric shapes create a fantastic sanitary ware. Its original toilet seat is available in the Sintesibagno store at the following link [ clik HERE ]
---
OUTLINE series by Althea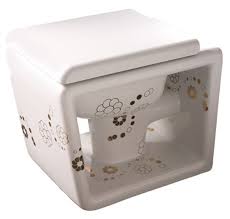 Perhaps the most revolutionary and formally courageous project of the last 20 years. We have already talked about it in the post "Sanitary ware rectangular shpaes. Why do all toilet seats for this toilet look the same?". Strictly rectangular in shape, but here the highlight was the emptying of the central part of the sanitary ware body. Leaving the siphon of the toilet bowl and that of the bidet visible, not to mention the colours and decorations presented by the company. HERE is the link to the original toilet seat [ clik HERE ]
---
PLUS series by Althea
We are in the rectangular/square shapes. Also in the post "Sanitary rectangular shapes. Why do all toilet seat covers for this toilet look the same?" we saw its two direct competitors. We report a passage of the post where we talked about Frozen and Verso that on a conceptual level can also apply to Plus "And here we are at, at least in the rectangular sanitaryware category, perfection of form. As I was saying, the point of arrival of design that seeks to create a product that is always mentioned when talking about the category it belongs to.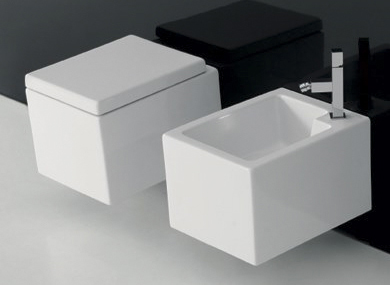 That's right, in the bathroom sector, when we talk about square/rectangular sanitary ware, the point of reference is this series produced by Simas. It had to be called FROZEN. I still remember the moment when it was presented to the industry, it left everyone speechless! It was the typical product that you either fell madly in love with at first sight or you thought it was just a provocation by some creative designer. The fact remains that you had to give it just one look. In terms of sales, it was quite successful. Not a best seller, but this was only due to the high cost of the elements, which was amply justified given the production costs, but not affordable for everyone. The original toilet seat for this sanitary ware, both the first version in white coated wood and the version in wrap-around thermoset (also available with slow motion hinges) can be found at the following link [ clik HERE ] The only worthy rival (along with PLUS, which we are seeing here) to the perfection of the Simas sanitaryware was VERSO by Ceramica Catalano, which is only available in the suspended version and not in the floor-standing version. In terms of style, it is less geometrically imposing and has lighter lines. This sanitary ware is also available in the ORIGINAL toilet seat in the Sintesibagno store at the following link [ clik HERE ]." The PLUS sanitary ware was presented in both floor-standing and wall-hung versions. The original toilet seat for the PLUS series can be found in the store at the following link [ clik HERE ]
---
We started to see some toilet seats and their particular shapes presented by ceramic Althea. If you are looking for the toilet seat for Althea sanitaryware and you don't know which model of toilet seat you need, we suggest you to use our toilet seat search service, system already used by almost one hundred thousand customers, just send us an email to info@sintesibagno.it or a WhatsApp message to 3341288978 with two pictures of your sanitaryware and few measures and we will be able to help you in the choice and to find the toilet seat you need. Here is the video on how to proceed with the toilet seat search: